EBI TRAINING MANUAL
Euthanasia Reference Manual (2013 Edition, 100 pages): This full-color booklet is the companion manual for AWMS/HSUS Euthanasia By Injection Training, the nation's most widely recognized and legally accepted Euthanasia By Injection training. (Please refer to your State's regulations for a list of accepted training options).  This 100 page illustrated reference manual provides a comprehensive review of humane euthanasia.  It is a vital resource for professional shelter and animal control staff.  Topics include Understanding Euthanasia, Sodium Pentobarbital, Pre-Euthanasia Drugs, Verification of Death, Disposal of Animal Bodies, Euthanasia Tools, Euthanasia Policy and Protocols, Animal Handling and Restraint, Employee Health and Safety, Compassion Fatigue/Euthanasia-Related Stress, Federal Requirements for Controlled Substances, Unacceptable Methods of Euthanasia, Employee Health and Safety, Euthanasia of Small Mammals, Birds, Reptiles, Fish, Amphibians, Large Domestic Mammals, and Wildlife.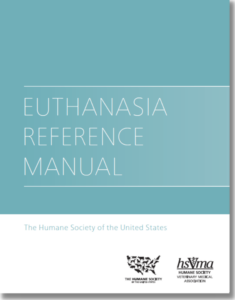 EBI Training Manual
Cost: $20 (shipping included)
Place your order by filling in the information below.
You will be redirected to Paypal.